NYC PRIDE MARCH
CBST is out in the streets for the biggest Pride celebration in the world! March with CBST and NYC Pride, welcoming WorldPride, as we mark the 50th Anniversary of the Stonewall Uprising and a half-century of LGBTQIA+ liberation. This year, we march alongside all the other Jewish LGBTQ organizations!
Here are the updated logistics you need to know:
March Line-Up Time: 1 PM.
Line-Up Location: 31st Street between Madison & Park Avenues. Our group is Section 3, Order Number 54, marching with JQY, Keshet, JCC, and other Jewish organizational partners. 
Wear your NEW! CBST Stonewall50 Umbrella Hat & CBST T-shirt. Purchase here! - pick up in advance at CBST during office hours
Day-Of Contact: Should you need, feel free to contact a CBST group leader at (917) 830-7816 or (858) 247-2662 on the day-of. Text is preferable, if possible. 
CBST will bring banners (no float this year). Bring your own water. Wear sunscreen. Pack light. Plan ahead for food. Porto-san facilities, water refilling stations available in the Marcher Formation area. The march typically takes 60-90 minutes. No registration or wristbands required. Record attendance expected – consider marching only if you feel fit for crowds.
Questions on the day-of? Look for CBST's official group leaders, Rabbi Sharon Kleinbaum, Yolanda Potasinski, Cantor Steve Zeidenberg, Rabbi Steven Philp, or Jesse Katz, wearing official NYC Pride Group Leader t-shirts, so they will be easy to find. 
MORE INFO

Through June 21, add your Pride Shout Out! to the June 28th Pride Shabbat Program.
STREET CLOSURES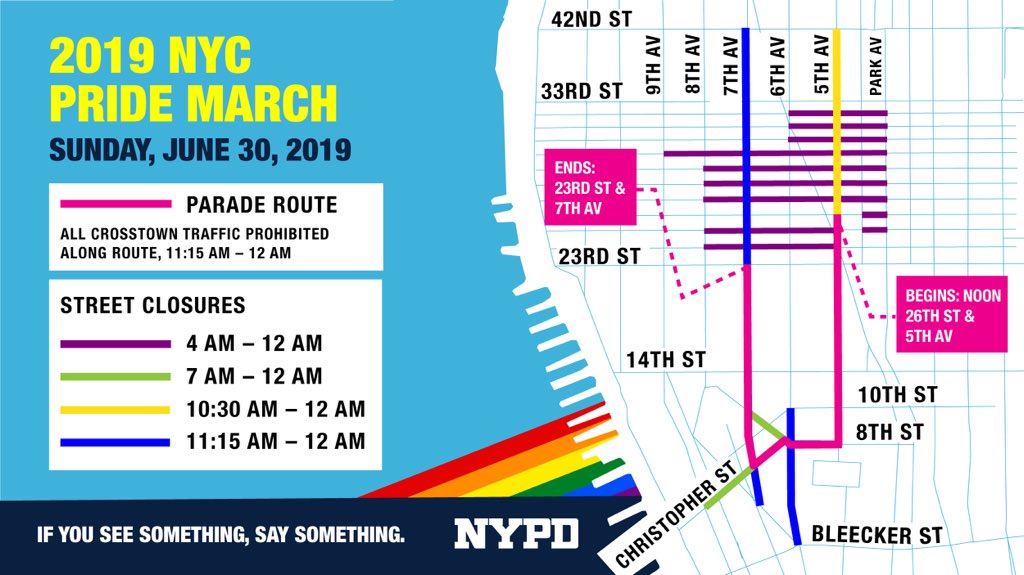 WORLD PRIDE NYC - STONEWALL 50 - PRIDE MARCH
The first March was held in 1970 and has since become an annual civil rights demonstration. Over the years, its purpose has broadened to include recognition of the fight against AIDS and to remember those we have lost to illness, violence and neglect.
The March is a celebration of our lives and our community. In 2018, we were joined by over 550 unique marching contingents, representing a vast array of non-profits, community organizations, corporate sponsors, small businesses, political candidates and activists! With over 100 floats making the trek along the route, last year's March was one of the largest and most exciting in history.
MEET OUR 2019 LGBTQIA+ NYC PRIDE MARCH GRAND MARSHALS
POSE is a dance musical, set in the 1980s, that explores the juxtaposition of life and society in New York: the ball culture world, the rise of the Trump era, and the downtown social and literary scene. Cast members Dominique Jackson (Elektra), Indya Moore (Angel), and MJ Rodriguez (Blanca) will represent the show.
Phyll Opoku-Gyimah is the nucleus of the award-winning celebration and protest that is UK Black Pride.
Gay Liberation Front was the very first LGBTQ activist organization formed after the Stonewall Rebellion.
The Trevor Project is the leading and only accredited national organization providing crisis intervention and suicide prevention services to lesbian, gay, bisexual, transgender, queer & questioning (LGBTQ) young people.
Monica Helms is a transgender activist, author, and veteran of the United States Navy, having served on two submarines. She is also the creator of the Transgender Pride Flag, in 1999, and subsequently donated the original flag to the Smithsonian Institution in 2014.
For a premium seating experience, check out the March Grandstand Experience: HERE.
When
June 30th, 2019 1:00 PM
Location
31st between 5th and Madison Ave




New York

,

NY

10016




United States